Transport Tycoon Hints
This page describes some hints. Not all, there are too many, but only hints that are used on these tansport Tycoon pages.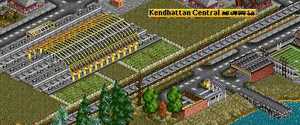 Walking Stations
Normally when a combined station is made, the different types of stations must be connected to each other. When the stations are close together, but not connected with each other, then there are two stations.
Sometimes we want a combination of several stations, like Kendhattan Central. There we have a Railroad Station, a Truck Loading Area, a Bus Station and a Ship Dock. The railroad station is separated from the other ones.
This railroad station was first build and it is close to the city. Now we want to add a shipping dock, but when we simply place a shipping dock, it will get another name and it will be another station. We want to have a shipping dock connected to the railroad Station.
Here below is explained how this can be achived.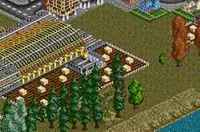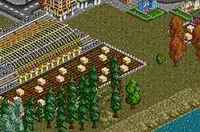 Left:
This is the original situation. There is only a Railroad Station.

Right:
We placed a Bus station, touching the Railroad Station.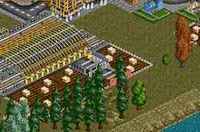 Left:
Now we place a Truck loading area that must touch the Bus station.

Right:
Destroy now the Bus station.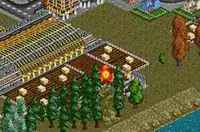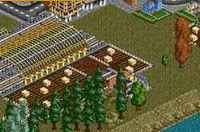 Left:
Place a new Bus station touching the Truck loading area.

Right:
Destroy now the Truck loading area.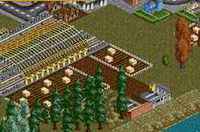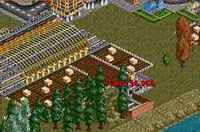 Left:
Place a new Truck loading area touching the Bus station.

Right:
Destroy now the Bus station.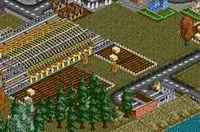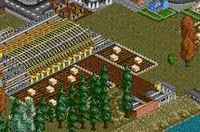 Left:
Rebuild the Bus station on its definitive place and place also a Ship dock.

Right:
Make the road and plant some trees on the places where the stations were demolished.
This can be done over a long distance. Make always sure that the new station touches the old one. If not, it will get a new name and after a lot of work you'll end up with two separate stations instead of one combined.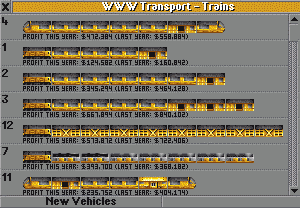 Replacing Locomotives
Replacing locomotives is a boring job. Well a single one is no problem, but when you want to update all locomotives then it is a big job.

PID: 3013
CLT: 0.001
LMD: 2013-Aug-17