2050 - Evaluation
This I made once, but I will never do it again. It was a terrible job. The first pages of "Transport Tycoon, the game" were made at end of 2001. The last one, page 11, is made in January 2004. It takes all an awful lot of time. When you do absolutely nothing then one year runs in about 15 minutes. With playing the game, writing the story, saving, making screenprints and finally putting it all together, one year lasts about 2 hours.
One page describes ten game years and there are totally 100 game years; is ten pages. This means that I've spent around 200 hours for making these ten Transport Tycoon pages.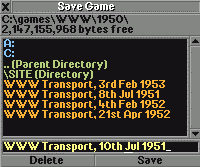 Important !
Save, save, save and save the game. This is really very important. Special at the start of the game, there is almost no money and one wrong mouse click can make you bankrupt.
So before doing any construction work or before buying something, save the game. When something goes wrong, you can go back in time and try something else.
After I've made the first years in December 2001, I would continue in May 2002, but I could not find the last savegames. They were lost. No way to get them back. It was possible caused by a hard disk cleanup, I don't know anymore. So I had to replay and to rewrite about one and a half game year. From that time on, all saved games are saved on another computer and the January save games are on my site. That's not only to download, but also my last backup.
Used stuff

The game itself was played with the original Windows version of Transport Tycoon. This is the simplest way; it makes it easy to switch from one window to another.

Screenprints were made with Alt + Print Screen (to clip board) and the past in
Microsoft Paint
. In Paint the needed image section was copied and save to disk. Note that some version of paint can also edit gif and jpg files.

With
ACDSee
Trial Version running in Sponsored mode the Images were converted to jpg or gif. However this program makes always uppercase file extensions which has later to be converted to lowercase.

The first version of the HTML file was made with
Netscape 4.7
composer. The only reason is that this program runs fast and has a spell checker were I had all the exotic names of all the villages.

Then the HTML file was edited with
CSE Validator Light
. All tables were removed and div's were inserted. Here also the file was validated to find the most stupid errors.

To convert it to XHTML
Note Tab Light
was used. This program changes width=120 in width="120" and adds the slash ( />)at the end of the image tag.

Next the file was opened in the browser,
Mozilla Firebird
. From there the html was checked again, with "validate local HTML" on the Web Developer Toolbar
Then all the text was copied and past in
Microsoft Word
to find and correct all spelling errors, like points, commas and a plural s.

Next the file and the images were uploaded to my site with
WS_FTP95

From the site it was again opened in the browser, now
Mozilla
and
Internet Explorer
. It must look almost the same in there browsers

A last final HTML and CSS validation was done on
w3.org
Each error has to be located and corrected.

If this is all OK then a last look with
Opera
in its beautiful full screen mode.

Then, a few weeks later, I start to read the whole page once more, from top to bottom to check for errors. There are always errors, one even more stupid then the other.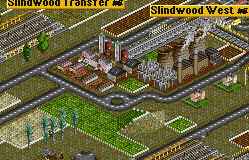 Corrections
End of 2046 we tried to get a subsidy for a livestock transport. As usual this was quickly done, without any problems. However, when I later watched to what I made, it didn't look so good. There was already a railroad station close to the farm and we just placed another one.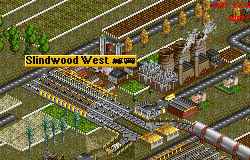 Therefore we went back in time and the savegame from before the subsidy was restored. Then the whole stuff was rebuilt with another layout and no new railroad station, but the existing one was moved and replaced.
This was not the only time that I did that. At the first years of the game I played several variations, the savegame name extended with a, b, c or d. Then afterwards, I took the best running one. it was the only solution not to go bankrupt.
Final Score
At the end of the game it ends with "Tycoon of the Century" and 978 points. This was the first score I've got with this scenario. Then I went back to the first of January 2049 and replayed the last year of the game. It was impossible to get more points then the 978 that I got the first time. I corrected some errors, like a loan that was not paid back completely. I've tried it now five times, but no better score then that first time.
Important Links

TTDPatch - The Transport Tycoon Deluxe Patch
This game was played with the original version of Transport Tycoon, Windows version. This standard version has a limit of 80 trains and a total maximum number of 690 vehicles. This can be very boring sometimes. With TTDPatch, these limits are now much higher: up to 240 of each type, and up to 40,000 vehicles including wagons! That should be enough for any tycoon. All limits are gone with TTDPatch from Josef Drexler.
TTDPatch is a gameplay-enhancing update to Transport Tycoon Deluxe (TTD). It offers:
New vehicles, new graphics
More vehicles
Larger stations
New signals
More construction options
In-game cheats
and many other improvements
All of them optional, so you only get what you want!
The main page of TTDL Patch and the feature information Page.

TTDX Editor
This is a program that lets you edit many features of Transport Tycoon Deluxe saved games, including the industries, vehicles, cities, and more! The download of TTDX Editor includes all required dependencies. More information about TTDX Editor on the info page

New Graphics
Thanks to the Transport Tycoon Patch by Josef Drexler it is possible now to have a greater variety of vehicles which are better suited to the available cargo and look better than most of the original ones. These new models are better adjusted to different cargo and show different views when loading or moving and many of them are animated while they're being loaded or unloaded!

More
More useful programs can be found on the site of Owen Rudge. Then there are the Transport Tycoon Forums, the place to talk about Transport Tycoon
PID: 3012
CLT: 0.001
LMD: 2013-Aug-17