Hot Foil Stamping Unit
The HOT FOIL STAMPING UNIT is made by a French manufacturer. The device is composed of a heated chase with the same dimensions than the die-cutting chase (optional HONEYCOMB base on letterpresses), there are 1 to 9 independent heating zones, according to the size of the press.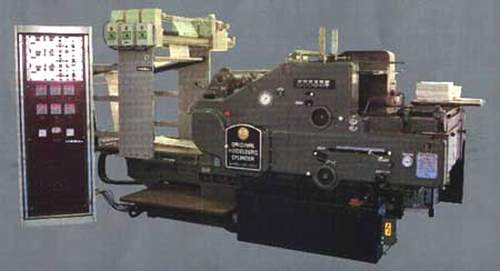 An electronical foil feeder unit with 1, 2, 3 foilers with stepping motors, an electrical cabinet separated from the machine for the control of the pull. This device is easy to use, reliable and guaranteed 3 years on the electronical parts. Valorize your impressions :
packaging, labels, book and magazine covers, greeting and visit cards, concert tickets and mass market products...with HOT FOIL STAMPING in different metallized colors (gold, silver, black, red...) with holographic designs or diffraction patterns or "scratch off"