Episode 10 : 2040..2050 - Finalization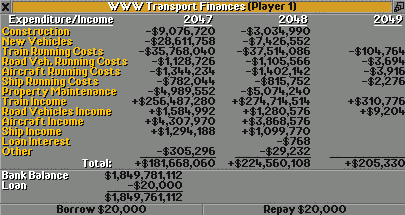 2049
This is the last year of this game. We have to continue till the real end.
January 3 we found that train 80, a high profit gold train did not anymore make money. This was caused by a new gold mind near the unloading station in Tindhall. We changed the settings for Tindhall to "unload" With this new setting the train earned almost a half million dollars in Tindhall
Dinsoft to Gadtown
January 20 we sold train 21. This one was running between Dinsoft and Gadtown It made good profit, but the other train to Gadtown did not do it so well. It should go better now. This allows it also the reconstruction the railroad between Dinsoft and Kendhattan.
In the mean time we modified some trains, like exchange passengers cars by mail vans. March 1 we made a bus in Kendhattan. There are many passengers waiting on both railroad stations, now they can take the bus to go from one station to the other. It looks like goes to make some profit.

New Gold Train

There are still some subsidy's to get. Why not, we can build one more train. The coal transport we did before, but the mine is rather small, we won't make so much money there, so this time we chose for the gold mine.
Subsidy Awarded

April 22 the train is running and with just 20 bags of gold went to the Tedingville Bank. April 28 we got the subsidy for the Gold transport. The two armored vehicles from Tedingville gold mine do not make money. Therefore we sell them and make a railroad station instead of the truck loading area. Now it can be serviced with the same train as going to Wrunthill City Gold Mine.

Gold Mine down by 50%
The new gold train is just making profit and then on December 1, there comes a message that the production of the Gold Mine goes down by 50%...
2050 Game Over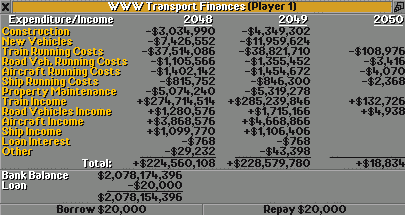 End of the game. Due too the very hard working we did, we forget to repay a loan of $20.000.
We wrote too many reports, made too many photo's and it took far too much time...
Hundred year of very hard working
After a hundred year of very hard working we reached the end of the game. It was even mentioned on the frontpage of the "Daily News" - Tycoon of the Century.
1950..2050: Year by Year
This page shows all Game Years one by one. From 1950, to the last one: 2050.
In the Control Box below you can browse from one year to another or jump to any of the 100 years. If the Save Game of the selected year is available then there is a Download Button.
PID: 3021
CLT: 0.002
LMD: 2013-Aug-17