Episode 10 : 2040..2050 - Finalization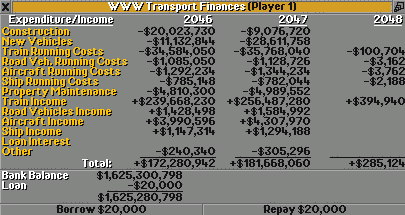 2048
We are getting close to the end, it is almost finished.
We must earn money, how more how better.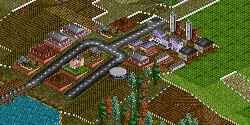 Watching Everything
Again watching everything. Replaced bus 5 and bus 11. We've made a photo of an UFO. Then we decided to replace also all other old busses. That keeps the suprises away. So end of April there are no more old busses. July 4 we demolished the unused railroad station at Sentwood Heights.
September 23 the UFO landed at Tenington and October 9 the UFO was destroyed.

Subsidy
October 1 there is an interesting offer for a gold transport. It is just the good distance to by trucks. November 5 the first Armored Van arrived at the gold mine to pickup 16 bags of gold. November 28 we got the subsidy.
1950..2050: Year by Year
This page shows all Game Years one by one. From 1950, to the last one: 2050.
In the Control Box below you can browse from one year to another or jump to any of the 100 years. If the Save Game of the selected year is available then there is a Download Button.
PID: 3021
CLT: 0.002
LMD: 2013-Aug-17