Episode 10 : 2040..2050 - Finalization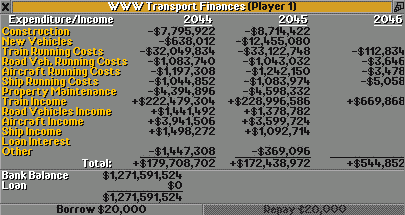 2046
Business is going good, but earnings are not increasing a lot. We have to look for more big business, but also look at the small things.
Almost every vehicle makes now money, except two busses. This we have to change, because we want to get money from everything.

Full Load
The two busses were set to "Full Load" at the station with the most passengers. This improves their earnings. February 6, Ship 2 had also a lot of losses. Since there are two ships on the same route, this one was sold.

Coal Mine Down
March 9, everything seems to go bad, production of a coal mine down, Saston does not accept anymore food.
In Saston the problem was solved by connecting a Truck station to the railroad station.
May 25 an UFO lands near Tenington,
June 25 the UFO was destroyed.

Livestock Subsidy
June 1 we got on offer for a subsidy on Livestock transport and a message about the closure of Flondston Food processing Plant. August 31 the railroad for the subsidy is made.

When we want to buy the locomotive we got the nice message that there are too many Railroad vehicles.

Too Many Vehicles
To get something running we sold train 69, the gold train in Drontburg. October 20 the new train arrived at the farm to pickup the livestock and October 30 we got this subsidy and the first earning was about $200,000
1950..2050: Year by Year
This page shows all Game Years one by one. From 1950, to the last one: 2050.
In the Control Box below you can browse from one year to another or jump to any of the 100 years. If the Save Game of the selected year is available then there is a Download Button.
PID: 3021
CLT: 0.003
LMD: 2013-Aug-17