Episode 10 : 2040..2050 - Finalization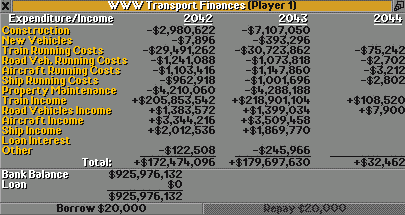 2044
In this year we will reach an historical moment; our Bank Balance will pass the magic one billion dollars.
There are no special things to do, always watch careful the messages and we will have a look if there are more cities with two railroad stations which can be combined.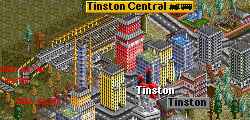 Tinston
It took a few months to find something. We removed Tinston station. Now there is only Tinston Central. There are always passengers waiting. The train from Tinston went to Fledingville, which is a bit a too short distance for a train. Fledingville to Tinston Central will go much better.
June 20 all the work is done. In addition, we removed a bus service from Tinston Central. This was bus 9, losing money.

Destroy some Roads
Train 1 is not doing so very good. In fact it runs over a too short distance; to Dinsoft. We decided to let it go to Frondhead. There we have to extend the railroad station, but therefore we have to destroy some roads from Hunley Market Transport. They don't give permission, so we go to buy that company.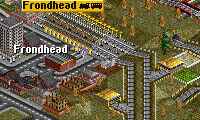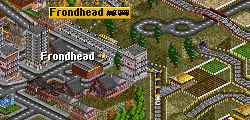 August 28 we started with the reconstruction of Frondhead railroad Station. The stupid round turning roads on the right is what be bought. At the left is the new situation on October 20. Much better, isn't it? Only some rails have to be straightened, therefore the tunnel at the right bottom must be extended.
November 1 a message that the production of Drontburg Gold mine is lowered by 50% This is bad news, we have two gold trains transport gold from that Gold Mine
1950..2050: Year by Year
This page shows all Game Years one by one. From 1950, to the last one: 2050.
In the Control Box below you can browse from one year to another or jump to any of the 100 years. If the Save Game of the selected year is available then there is a Download Button.
PID: 3021
CLT: 0.003
LMD: 2013-Aug-17