Episode 9 : 2030..2039 - Consolidation 4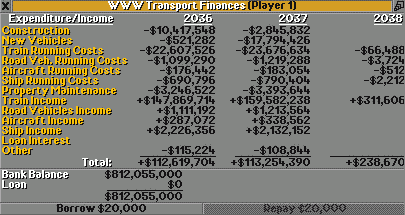 2038
Another 100 million more on the Bank Balance. It becomes time for some new investments. However, it is more and more difficult to setup new money making services. All good services are already made.

Old Helicopter
On January 4 we have already a problem. Our holiday helicopter is getting old. Normally we replace it by a new one. However, all helicopters are out of production, there are no new one's anymore. When we use an airplane, then their needs to be a real airport at Ledinghattan.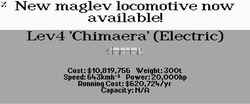 LEV4 Chimaera
There is an announcement for a new locomotive, the LEV4 Chimaera. Due too our hard work, we missed the announcement of the prototype launch, about one year ago. However, this locomotive is really much faster and much more powerful then our existing locomotives, so we go to replace them all. (Hint)
All replaced
The first of April all locomotives are replaced by the LEV4. The Bank Balance is only 160 million dollars. We've spent 681 million dollars on new vehicles.

It can be seen in the graph that during the replacement period the income dropped down sharply. Well we can be sure that it will go up very soon.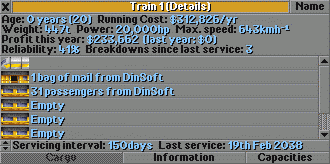 New Model
The LEV 4 is a very new model and, as you can see from the details of train 1 the reliability is still very low for this new locomotive. It is only 41 %.
After a few years, when all the specific problems are found and analyzed this will increase a lot.
Murphy & Co
There was a very long time a competitor Murphy & Co, with one Road Vehicle. Well, that car has a crash with a train, so there is nothing left. Our new trains are so very fast that you can't see them anymore.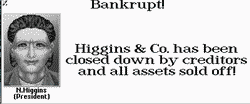 Higgins & Co
October starts with bad news about Higgins & Co - bankrupt and Flondston transport - for sale. It is not useful to buy such a company, because they have absolutely nothing, but a million dollars high loan on the bank.
December 1 : Flondston Transport has been sold to Frondhead Transport for $341.730.00
1950..2050: Year by Year
This page shows all Game Years one by one. From 1950, to the last one: 2050.
In the Control Box below you can browse from one year to another or jump to any of the 100 years. If the Save Game of the selected year is available then there is a Download Button.
PID: 3021
CLT: 0.002
LMD: 2013-Aug-17