Episode 9 : 2030..2039 - Consolidation 4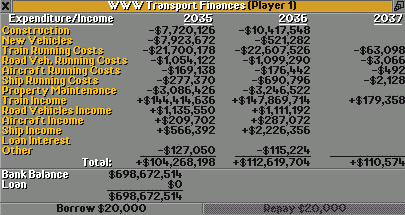 2037
A bit more income from the trains, but relatively a lot more from our boats. So the total income was increased by 8 million dollars.
The bank balance is almost 700 million dollars.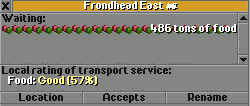 Improvements
We are continuously looking for places that need to be improved. One of them is the situation on Frondhead East, only about the half of the produced food is transported. This is a terrible situation. Therefore on April 16 a second train was put in operation. Earnings on the first trip already 110.000 dollars.

Gold service
For many years there was a subsidy offered for gold transport from Kendhattan Mines to the bank in Gadtown.

UFO
Many times there are messages from landed UFO's. This is very frustrating, it is not the UFO that causes the problem, but they are automatically destroyed by the Air Force. They drop just a big bomb and that destroys also the railroads.
Vaporized rails
Here is the same location after the bomb was dropped. The rails and the depot are completely vaporized. We have to repair everything immediately. If we don't do, it will cost us a lot of money.

Subsidy
In September we got the subsidy for the gold transport. It is done with two Foster Armored trucks. Also the road was modified to avoid same level crossings with the rail road. This gives sooner or later a crash. Well we did spend a lot of money and it is not sure if we get some back.
1950..2050: Year by Year
This page shows all Game Years one by one. From 1950, to the last one: 2050.
In the Control Box below you can browse from one year to another or jump to any of the 100 years. If the Save Game of the selected year is available then there is a Download Button.
PID: 3021
CLT: 0.002
LMD: 2013-Aug-17