Episode 9 : 2030..2039 - Consolidation 4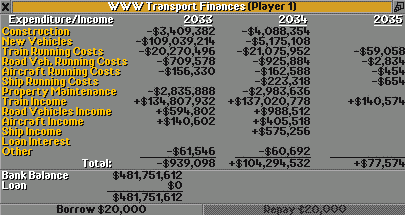 2035
We did not spend so much money last year, so the bank balance increased from 377 million to 481 million dollars. There is plenty money to invest in new transport business, but now it is not so easy to find some good places.

Trains
Since there is not so much need for new trains we first have a look if all trains makes money. It is interesting to see that there is sometimes a large difference, for example train 7 and train 10. One makes only $63k and the other almost 3 million. To increase the earnings of train 7, we remove some Coal cars. Now there are four left and it seems to give some improvement.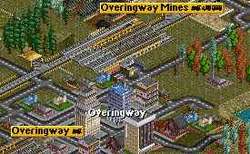 Overingway
In the mean time we had a look to Overingway, the city where the coal mine is located. There are two large railroad stations, both only partial used. The best solution is to remove one and to combine the coal transport with a passengers train. The transport rate of the coalmine is now 87%. The earnings of the two trains about 2.4 million. We will see if this change after the reconstruction.
July 2035 the new train is running from Overingway to Lendhead Central. The first earnings are 80.000 for the coal and 60.000 for the passengers and mail. At the end of October 78% of the coal is transported. Not so bad. Since Overingway is located at the sea, it is very suitable for a boat service, for example to Pennville. November 16 the new Hovercraft arrives at Overingway and takes 20 passengers from the new terminal.

Our Boat
The arrival of the boat was on December 5. It could not find the shortest way. Therefore now we placed several buoys

between Overingway and Pennville. Now it should go much better.
1950..2050: Year by Year
This page shows all Game Years one by one. From 1950, to the last one: 2050.
In the Control Box below you can browse from one year to another or jump to any of the 100 years. If the Save Game of the selected year is available then there is a Download Button.
PID: 3021
CLT: 0.002
LMD: 2013-Aug-17