Episode 9 : 2030..2039 - Consolidation 4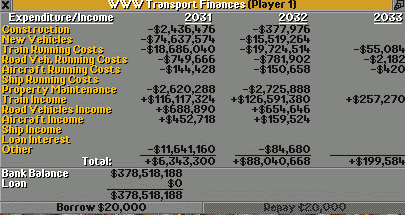 2033
This year we will start with replacing the Lev1 with the Lev2 trains. This will increase our income and give our company a higher rating in the cities. Each locomotive will cost us about 7 million dollar.
January 25, we replace 15 locomotives for about 105 million dollar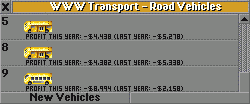 Armored Trucks
We have two Armored trucks, transporting gold from Tatfield Gold Mine to the bank in Nardinghattan Bridge. As you can see, they lose money.
The transport rating is only 33%. To improve, we go to run a train between Nardinghattan Bridge and Dinfingway, with a stop near the gold mine.

New Train Service
We will make a new Train service between Nardinghattan Bridge and Tatfield and also the one between Dinfingway and Ronwood. June 30 the first new train arrives at the new station near the gold mine. The train stops only on its way to Nardinghattan Bridge. First earning: 250 thousand dollar.
1950..2050: Year by Year
This page shows all Game Years one by one. From 1950, to the last one: 2050.
In the Control Box below you can browse from one year to another or jump to any of the 100 years. If the Save Game of the selected year is available then there is a Download Button.
PID: 3021
CLT: 0.002
LMD: 2013-Aug-17