Episode 9 : 2030..2039 - Consolidation 4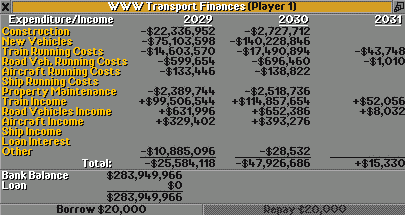 2031
The train income was very good, but due to our new vehicles we have a loss of almost 50 million dollars.
All the big jobs are done, now we can have a look to make some small improvements and to see if we can get some subsidies.
February 1, the first small change was made: the train between Condinghall and Wrunthill City goes now a bit further, to Pennville North.

Insect Problem
March 15 we got the first bad message: an insect problem in Tenington Forest. The wood train there earns yearly about 1.5 million dollar.
This will be a lot lower this year.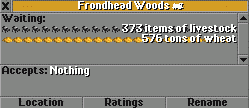 Fronthead Woods
The farm at Fronthead Woods has a very high production. The rating at the station is around 50 percent. Therefore on October 13 an extra train is added from this station to the Food Processing Plant at Frondhead East.
Our Work
November 15, the production from the Slarfingfield coalmine will be doubled, we have already one coal train here, so no action is needed.
November 15, a subsidy offered for gold transport from Kendhattan Gold Mine to Gadtown bank. This was already a few times done by a competitor, but the production is to low to earn money on it, so we don't do anything.
December 15, the insects are dead and Tenington Forest increases production
1950..2050: Year by Year
This page shows all Game Years one by one. From 1950, to the last one: 2050.
In the Control Box below you can browse from one year to another or jump to any of the 100 years. If the Save Game of the selected year is available then there is a Download Button.
PID: 3021
CLT: 0.002
LMD: 2013-Aug-17