Episode 8 : 2020..2029 - Maglev Trains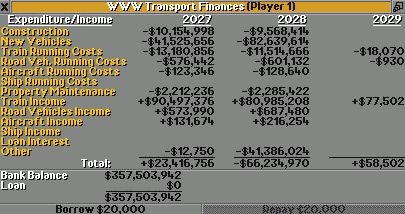 2029
We have now sold all old trains and we have 63 new trains. Therefore is our train income is again lower then before.
We have to continue with construction of new rails and buying new Maglev trains.

Cyclops
The first of February we got a new locomotive. This on is even faster then the one we have already.
It has also more horsepower (12,000hp)
This will be the new locomotive for the future.
Our Work
February 14, new train between Saston and Dinfingway, subsidy on March 12
March 17, new train between Slarfingfield Mines and Saston
March 21, UFO lands near Wrunthill City, on a not used track
April 20, new coal train from Slarfingfield Mines to Flondston Woods
June 28, new coal train from Great Chunborough Mines to Flondston Woods

Subsidy
In the mean time we got some offers for subsidies, so we will try do get these.
Our Work
August 6, the new train for the first subsidy gets on its way to Nunton.
August 17, we got the subsidy for this service.
August 31, the new coal train is in operation
September 14, we got also this subsidy.

Subsidies
We got now all subsidies, so we can continue with our normal work.
Our Work
October 5, new gold train from Drontburg Woods to Drontburg
October 15, new transport company launhed: Tennpool Transport
October 21, new train between Tatfield and Ronwood
November 9, new train between Tatfield and Tinston Central
December 7, new gold train from Betown Woods to Flondston
December 23, new food train from Tendtown Woods to New Pindhead
December 28, last old railroad station replaced, New PronfingleyWoods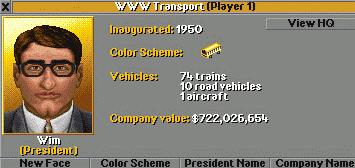 Maglev
Another decade finished. Ten years of hard work to get the new Maglev Trains introduced. WWW transport has now 74 trains.
Our income is improved a lot; it was just a bit less than hundred million dollar. We got about twenty million dollar more then the year before. Our new trains are doing well.
1950..2050: Year by Year
This page shows all Game Years one by one. From 1950, to the last one: 2050.
In the Control Box below you can browse from one year to another or jump to any of the 100 years. If the Save Game of the selected year is available then there is a Download Button.
PID: 3021
CLT: 0.002
LMD: 2013-Aug-17