Episode 8 : 2020..2029 - Maglev Trains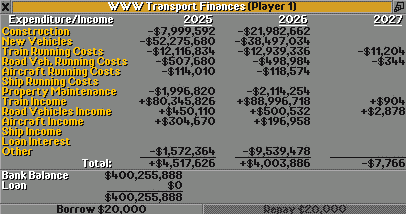 2027
Our earnings are going upwards. We have now 70 trains, about 45 new Maglev trains and 25 old monorail trains. Furthermore we have 9 road vehicles and one aircraft.
This new year we have to continue with replacing monorail with Maglev.
What we did
January 10, the new food train goes from Frondhead East to Pennville North
January 15, UFO lands near Overingway.
April 1, new train between Hunningwell and Gefingway
May 6, new train between Sentwood and Hunningwell
May 21, new train between Ledinghattan and Grenhattan Springs
July 1, new train between Sentwood and Ledinghattan
August 19, new wheat and live stock trains from Fennville Heights to Tendtown Woods
October 15, new food train from Tendtown Woods to Ledinghattan
December 20, new train between Tatfield Central and Hunley Market

Missing Depot
December 25 was found that the train between Dinfingway and Saston had a problem; there is no depot. It was possible that during a re-organization the depot was demolished and not rebuild.
1950..2050: Year by Year
This page shows all Game Years one by one. From 1950, to the last one: 2050.
In the Control Box below you can browse from one year to another or jump to any of the 100 years. If the Save Game of the selected year is available then there is a Download Button.
PID: 3021
CLT: 0.002
LMD: 2013-Aug-17