Episode 8 : 2020..2029 - Maglev Trains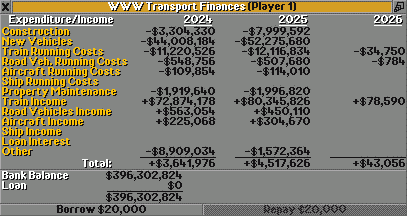 2026
We have to continue with replacing the old monorail trains by the new Maglev models. At this moment we are about half way, still a few years to go before we are finished.
The train income was a bit higher then the year before.
New Coal Train
February 12, new coal train from Betown South to Fennville Transfer. This is not a replacement, but a complete new service.

More Work
April 28, new coal train from Hunningwell Mines to Gefingway Woods
May 29, new coal train from Gefingway Woods to Fennville Transfer
July 31, new train between Gefingway and Tendtown
Accident
July 30, our competitor, Hunley Market Transport had a bad day: one more of his vehicles collides with our train. They have now only one Armored Truck left.

Interesting Offer
On August 1 we got an interesting offer for a wheat subsidy from Wrefingbourne Farm to Frondhead Food Processing Plant. Not only the transport distance is good, but also the production, 180 tons, so, let's do the job.
August 23, new train between New Pindhead and tennpool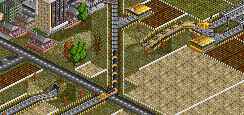 New Wheat Ttrain
October 2, the new wheat train is in operation. We had to make a special tunnel to reach the food factory. Without this tunnel it would be very complicated. When the first train arrives, it earns 184 thousand dollar. Not to bad. Now we have also to setup a live stock train and the food transport train. November 23, the live stock train starts loading at Wrefingbourne.
1950..2050: Year by Year
This page shows all Game Years one by one. From 1950, to the last one: 2050.
In the Control Box below you can browse from one year to another or jump to any of the 100 years. If the Save Game of the selected year is available then there is a Download Button.
PID: 3021
CLT: 0.002
LMD: 2013-Aug-17