Episode 8 : 2020..2029 - Maglev Trains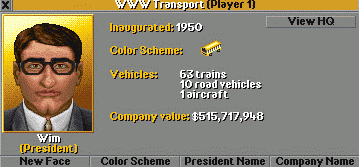 2024
It looks that we are only selling our trains; we now have several trains less than the year before. Most of these trains were old and need urgent to be replaced. Since this cost money and time, we just sell them and we wait until the can be replaced by Maglev trains. That's again our job for this year.
Our Work
January 19, new train between Dinsoft and Gadtown
February 7, new train between Gadtown and Wrefingbourne
March 18, new train between Dinsoft and Lendhead
April 17, new train between Dinsoft and Chanville
June 20, new goods train from New Pronfingley Central to Dinsoft

New Coal Mine
July 15 we got a message about a new coal mine. With these coal mines we can make good business. Coal transport brings up a lot of money and the Fennville Power Station is not so far.
More Work
August 2, new train between Dinsoft Woods and Lendhead Central
September 15, new train between Frondhead and Dinsoft Woods
November 5, new train between Overingway and Lendhead Central
November 21 we sold an old road vehicle, bus 21: We will not replace it.
December 25, new coal train from Overingway Mines to Lendhead Woods
1950..2050: Year by Year
This page shows all Game Years one by one. From 1950, to the last one: 2050.
In the Control Box below you can browse from one year to another or jump to any of the 100 years. If the Save Game of the selected year is available then there is a Download Button.
PID: 3021
CLT: 0.002
LMD: 2013-Aug-17