Episode 8 : 2020..2029 - Maglev Trains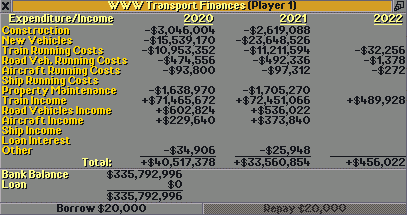 2022
Last year we replaced 6 monorail trains by the new Maglev models. We have still 71 more trains to do and to change all the rails.
It's good that we have a good income now, more then 70 million dollars.
Hard work
Replacing the old Monorail by the new Maglev is a lot of work; first the old stations and rails has to be removed and then the build the new ones. Also a station has to be replaced as one part, half Monorail and half Maglev is impossible. Sometimes in a village with a station, the rating can be so bad that it is not allowed to build a new station. Then you have to wait a few years till they find you again a good company.
Result
June 5 two new trains for wheat and live stock from Frondhead Woods to Tindhall Woods.
September 6 new train between Tindhall and Carfingley
November 2 new food train from Tindhall Woods to Carfingley
December 19 new train between Tindhall and Tronbridge
1950..2050: Year by Year
This page shows all Game Years one by one. From 1950, to the last one: 2050.
In the Control Box below you can browse from one year to another or jump to any of the 100 years. If the Save Game of the selected year is available then there is a Download Button.
PID: 3021
CLT: 0.002
LMD: 2013-Aug-17