Episode 8 : 2020..2029 - Maglev Trains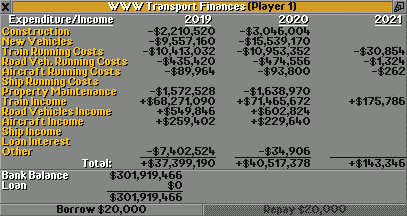 2021
Not so many special things in 2020. The new company stopped already its activities. Several other companies in trouble. We did get a subsidy and we had once more an UFO. We replaced some old trains. Now we go to wait for some new inventions.

The Leviathan
March 1. The special day is there. We got a message about a new rail system: MAGLEV.
The speed of the new locomotive is 402 km/h. But it cannot run on the existing monorails, we have replaced all rails by the new Maglev rails.

Our new Maglev construction box.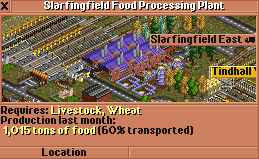 Maglev start
We will start with the wheat and live stock transport from Frondhead Farm and from Dinfingway Farm to Slarfingfield Food Processing Plant. Both farms have a very high production and only half of the products are transported.
Even the Food Processing Plant has such a high production that only 60% of the food is transported. Here is some good work to do.


Our Work
June 16 the first two Maglev trains are running.
August 25 we have also a new passenger train between Senfingley Woods and Slunningpool
October 4 passenger and food train from Slarfingfield Woods and Senfingley
December 16 passenger train between Senfingley and Slunningpool
December 31 new food train between Slarfingfield Woods and Senfingley
1950..2050: Year by Year
This page shows all Game Years one by one. From 1950, to the last one: 2050.
In the Control Box below you can browse from one year to another or jump to any of the 100 years. If the Save Game of the selected year is available then there is a Download Button.
PID: 3021
CLT: 0.002
LMD: 2013-Aug-17