Episode 8 : 2020..2029 - Maglev Trains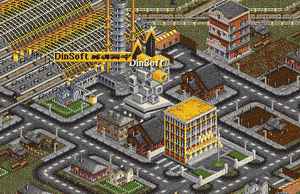 2020
Dinsoft has now almost 1200 inhabitants.
Not so bad, if you still remember that when were built our first office, there were only 54 people living there.
Very soon there will be a new invention: Maglev. This is a new type of super high-speed train, where the train has no physical contact with the rails. Zero friction!
The slowest models are already over 400 km/h. It can take some time before they are in production, we will see.

New Company
There are pessimists and optimists. One of these optimists starts a new company.
If they start with vehicles then they can survive a few years, if they go to make railroads; they will never come alive.
We will watch them to see what they go to do.

Subsidy
We got a message about an interesting subsidy. Starfingfield has not such a very good passenger transport, so this is a good opportunity to make one. The railroad runs a bit complicated and we have to build two new stations, but at August 31, we got the subsidy.

UFO
September 27 we got the first UFO message of this year. the problem is that we don't get a message when it is destroyed. In that case we end up with damaged rails and a money losing train.
1950..2050: Year by Year
This page shows all Game Years one by one. From 1950, to the last one: 2050.
In the Control Box below you can browse from one year to another or jump to any of the 100 years. If the Save Game of the selected year is available then there is a Download Button.
PID: 3021
CLT: 0.002
LMD: 2013-Aug-17