Episode 7 : 2010..2019 - Consolidation 3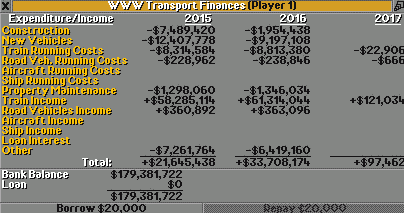 2017
Our business is going very well. There is only one competitor left, Gordon & Co, They have only three gold trucks and they lose about $ 40,000 yearly.
We do it much better and we will continue with improvement of the existing services, and, if possible start with new ones.
New Transport Company Launched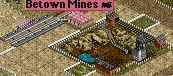 left:
Betown Gold Mine
January 9, a new company is announced. They start with a monorail station near Betown Gold Mine.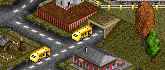 left:
Two Armored Trucks
April 9 we got the subsidy. This time not with a train, but with two Armored Trucks.

Not enough Money
The new company, Flondston Transport is ready with its railroad. There are already five Armored vans for the gold transport. They have only 1.3 million dollar left. This is not enough to buy a new locomotive. They will never run any transport service.
More things we did
May 7, we added a few mail vans to the train from Carfingley South to Brubourne. There were over 500 mailbags waiting in Carfingley.
In December we finished the gold transport from Betown Gold Mine to Flondston Bank. This is the same transport as Flondston transport tried to do - we have money to get it running.
1950..2050: Year by Year
This page shows all Game Years one by one. From 1950, to the last one: 2050.
In the Control Box below you can browse from one year to another or jump to any of the 100 years. If the Save Game of the selected year is available then there is a Download Button.
PID: 3021
CLT: 0.020
LMD: 2013-Aug-17