Episode 7 : 2010..2019 - Consolidation 3
2014
There was a huge increase in our income. Due to the recession it was 2012 year very low.
This year we will continue with "confirmation". We will make WWW Transport stronger and stronger, bigger and bigger. Get as much money as possible, but also good ratings in all of the cities.


The Last Competitor
The old train in the depot.

First thing we did this year was buying the company of our last competitor. Now we can setup a new gold and a new passenger service.

April 5, the new gold train is loading
April 24, the train between Slindwood and Kindingstone runs now between Lindwood and Drontburg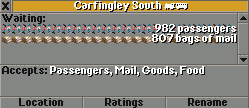 Improving Services
November, Carfingley South has still too many passengers. The transport rating is 43%. That means that we should place another train in operation. So we go to make a new passengers service between Carfingley South and Condinghall. On December 27 is the new train in operation.
1950..2050: Year by Year
This page shows all Game Years one by one. From 1950, to the last one: 2050.
In the Control Box below you can browse from one year to another or jump to any of the 100 years. If the Save Game of the selected year is available then there is a Download Button.
PID: 3021
CLT: 0.002
LMD: 2013-Aug-17