Episode 7 : 2010..2019 - Consolidation 3
2013
As you can see, due to the recession we had a much lower income. About eleven million dollar less. On the other side, our bank balance increased to more then 70 million dollar. It's not so bad. Soon the recession will be over and everything goes up again.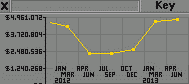 Recession Result
Here you can see the result of the recession. The monthly income lowered from almost 5 million dollar to a bit less then 2 million dollar.
Almost during four months, our income was lower then normal.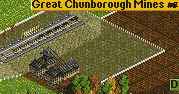 New Coal Transport
A new coal transport was made from Great Chunborough Mines to Betown Power Station. Operation was started in August.
The construction of the rails was a bit complicated. Special near Parwood, we had to do some landscape reconstruction. The people in Parwood don't like us anymore, our company ratings are: Appalling.

UFO
September 20, Again an UFO landed. If possible I stop a train on that position. When the UFO is bombed (October 8) the train doesn't have any damage and the rails under it are still good.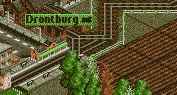 Straight Rails
Last year we bought another company. There are still a few left, but there is only one who has some real transport service. This is a gold service. We do have an Armored Car on the same route. They have a train. There rails are old and not so clever constructed. On their station near the bank are a lot of passengers waiting.
1950..2050: Year by Year
This page shows all Game Years one by one. From 1950, to the last one: 2050.
In the Control Box below you can browse from one year to another or jump to any of the 100 years. If the Save Game of the selected year is available then there is a Download Button.
PID: 3021
CLT: 0.002
LMD: 2013-Aug-17