Episode 7 : 2010..2019 - Consolidation 3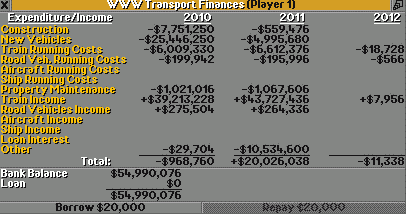 2012
What shall we do this year? No more trains to replace. No subsidies offered. The best we can do is to look around to see where improvements can be made. Also we must watch the competition. When they have an interesting service, we should take them over.

World Recession
March 15, a World Recession. All production will go low, less passenger transport. It will cost us a lot of money, but in a few months it can be over.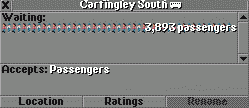 Company Take Over
We bought Carfingley Transport. The company was very cheap, but we found later that they had a loan of two million dollars. They owned two buses and two Bus Station in Carfingley.
We go to close the bus station near our rail station on we will build a new rail station at the other bus station.
Carfingley South
In September the new station, Carfingley South, is ready and the train is running. This train goes to Brubourne. There we made a new, two-platform station. There are still a few thousand passengers waiting on Carfingley South Station.
1950..2050: Year by Year
This page shows all Game Years one by one. From 1950, to the last one: 2050.
In the Control Box below you can browse from one year to another or jump to any of the 100 years. If the Save Game of the selected year is available then there is a Download Button.
PID: 3021
CLT: 0.002
LMD: 2013-Aug-17