Episode 6 : 2000..2009 - Monorails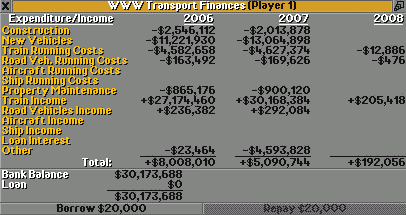 2008
We are still very hard working to replace all old trains by the monorail trains.
Hopefully it is finished before the first monorails are getting old.
Our income is 3 million dollar more than last year and is now over 30 million dollar.
A list of finished constructions
January 28, new train between Grenhattan Springs and Ledinghattan
May 10, new food train from Tendtown Woods to Ledinghattan
Ledinghattan has now 604 inhabitants and accepts food
June 27, a new wheat train from Fennville Heights Tendtown Woods
June 27, a new live stock train from Fennville Heights Tendtown Woods
August 6, new train between New Pronfingley and Trunhill
October 21, new train between Kindingstone and Slindwood
including a gold transport car for Drontburg
November 20, new trains between Kendhattan and Slindwood
December 11, new train between Tinston and Fledingville
1950..2050: Year by Year
This page shows all Game Years one by one. From 1950, to the last one: 2050.
In the Control Box below you can browse from one year to another or jump to any of the 100 years. If the Save Game of the selected year is available then there is a Download Button.
PID: 3021
CLT: 0.002
LMD: 2013-Aug-17