Episode 6 : 2000..2009 - Monorails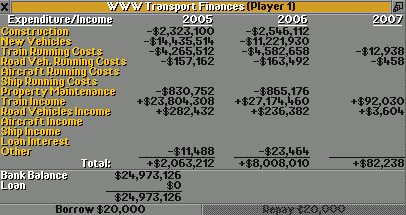 2007
We have now 59 trains and about 20 of them are still of the old types.
It seems that we need a few more years to replace all the old trains by the new monorail system.
Well, we have now money enough, let's continue.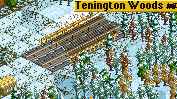 Looking around
Where are the rails? At the start of a new year is always a good time to look around on the map, to see if everything goes well. We found a terrible problem. The rails at Tenington Woods were damaged. It is possible caused by the destroying of an UFO. When we are busy with construction and replacing trains, there is not always enough time to follow all the news. We have to repair this immediate. Last year this train made almost a half million dollar, if we don't repair, it will be negative.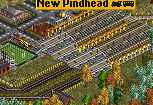 Replacements
February 14, new train from Betown to Lunton
April 23, new train from Tennpool to New Pindhead
New Pindhead has connections with two other stations. Now we have to replace these also.
June 19, new train from Gefingway to Tendtown
August 21, new train from Gefingway to Hunningwell
October 23, new train from Gefingway to New Pindhead
December 6, new train from Kendhattan, via Barninghall to Runwood
this one replaces two old trains
1950..2050: Year by Year
This page shows all Game Years one by one. From 1950, to the last one: 2050.
In the Control Box below you can browse from one year to another or jump to any of the 100 years. If the Save Game of the selected year is available then there is a Download Button.
PID: 3021
CLT: 0.002
LMD: 2013-Aug-17