Episode 6 : 2000..2009 - Monorails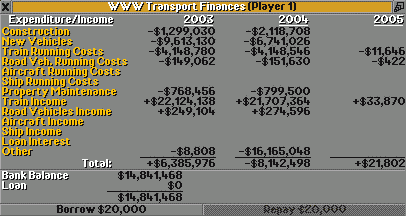 2005
We have now so many old trains that our income is going down. It is possible to replace them by the same models, but these models are getting old and there reliability is rapidly decreasing.
They have all to be replaced by the Monorails trains.

New Company
Now Higgings & Co. is founded, they try to get a subsidy for a gold transport from Kendhattan Gold Mine to the bank in Gadtown. They won't succeed, it is very difficult to find a place on the river to build a bridge and when they are ready with the rail road, they have no more money to buy a train.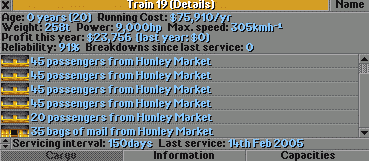 Tatfield to Hunley Market
February 20 the new monorail from Tatfield to Hunley Market is finished and the train is in operation. At this moment the transport ratings in Hunley Market are very bad, 18%. This will improve rapidly with the new train. The train is really full with passengers and mail.
More
April 29, new train from Drontburg Central to Kindingstone.
June 12, the Gold train from New Pronfingley Woods to Drontburg Central.
July 6, the train from Drontburg Central to Parwood.
Parwood has now a new two-platform train station.
August 23, new train from Parwood to Hunley Market.
October 4, from Overingway Mines to Pennville North
November 20, new coal train from Overingway Mines to Lendhead Woods.
December 25, new train from Dinfingway to Ronwood.
1950..2050: Year by Year
This page shows all Game Years one by one. From 1950, to the last one: 2050.
In the Control Box below you can browse from one year to another or jump to any of the 100 years. If the Save Game of the selected year is available then there is a Download Button.
PID: 3021
CLT: 0.003
LMD: 2013-Aug-17