Episode 6 : 2000..2009 - Monorails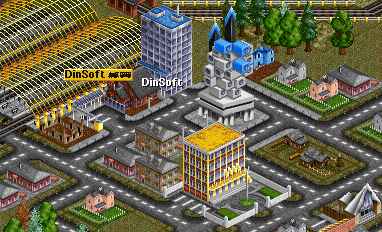 2000
Dinsoft has now 785 inhabitants. It looks like the people don't like to live here and move to the neighbor cities. The transport from Dinsoft to and from these cities is very good. There are several connections with fast trains.
This year, 2000, we will get some new and very fast trains.
We will wait or them before we replace any existing old train.

Monorails
On March 1 we got the message that we can buy new trains. They are very fast, 305 km/h. It is a monorail construction that means that they cannot run on our existing rails.

Now we can chose out of two types: the "classic" one,

or the new monorail type. For new constructions the monorail will be used.

The first Monorail
A good place to start is the railroad from Saston Mines to Betown Power Station. Here are now two trains running from almost 17 years old. They need almost to be replaced. Now we can also make a new tunnel, a bit lower in the mountain. This will increase the speed of the train.

The old coal train with a maximum speed of 160km/h
and the new coal train has a speed of 305km/h

Very expensive
It costs over 1.3 million dollars. Also the running cost is a bit more. However, the earnings will be much higher, the train is faster; the coal car can contains 35 tons, instead of 30 for the old ones. At June 17 the new train is running.
The July 4 it arrives at Betown Power Station. It earns almost $150,000 Our first fast monorail is ready.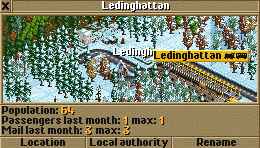 Ledinghattan
Ledinghattan is a small village in the mountain, chosen by us to develop. But since our last visit there is no improvement. They have still only 64 inhabitants. On August 12, we spend a few million dollars for some new buildings. The station accepts only passengers, no mail no food.

September we got a message about doubling the production of the Frondhead Farm. It was 160 tons and it will become 320 tons. The transport rating from that farm are already low, about 35 %.
Paninghall
Since we are passing Paninghall with this new monorail, we first update their station to monorail. The people there are very sensitive, if we cut a few tress, then they become angry on us and won't give any more permission to change the station. Now we replace first the station and then we can do what we want...

UFO
November 17 the job at Paninghall is done, they have a new station. We just started with a new farm station when we got a message about a landed UFO. Let's have a look there to see what happens.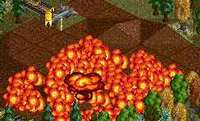 From an unknown source, we see a strange model airplane. It looks like a military model. After some time it arrives at the UFO location. There is no try to communicate, just a big bomb is dropped to destroy the UFO. We are lucky, our train has no damage at all. We have only to repair the rails.
1950..2050: Year by Year
This page shows all Game Years one by one. From 1950, to the last one: 2050.
In the Control Box below you can browse from one year to another or jump to any of the 100 years. If the Save Game of the selected year is available then there is a Download Button.
PID: 3021
CLT: 0.002
LMD: 2013-Aug-17