Episode 5 : 1990..1999 - Consolidation 2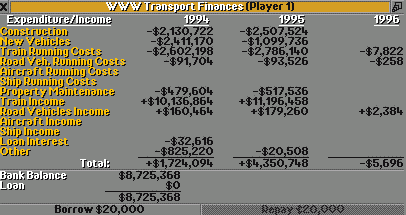 1996
Again one million dollar income increase.
We have now 61 trains and 8 road vehicles.
The company value is about 36 million dollar. Carfingly Transport is on the second place with a value of only $780,000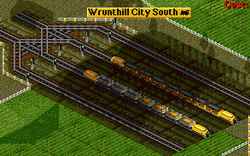 New railroad ready
Begin of May the new track was ready. Also two more trains are put in operation, train 62 and train 63.
Their earning are good, about $60.000 average. September: We enlarged also the station near the farm, because when we do have four trains, two for wheat and two for livestock, then is can be possible that we have two trains of the same type loading. That will disturb very strong the rating. s
Now there is place for all four trains.

Subsidies
In the mean time we received some offers for a subsidy. There are three, but none of them is very interesting. The wheat service is from a farm with a very low production.
Also the passengers service will not be paying very soon.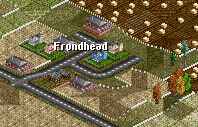 Interesting business
However, there is still some interesting business to do; the village Fronthead has not yet any transport facilities.
It would be very good to give the people there a train connection to, for example Dinsoft Wood Station. This gives the people from Frondhead the opportunity to work for an interesting and growing company.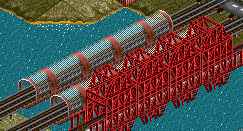 High speed Bridge
In October 1996 we got also a new type of bridge. it is the fastest one we have now, for a maximum speed of 321 km/hour. This type of bridge is very good and now we go to use it anywhere we can. On 23 November the railroad is ready and we can setup our new train.

Frondhead
On 27 November the train arrives in Frondhead. it pickups 14 passengers and one bag of mail. Since Frondhead is a very small village, we go to build some buildings there. This is very expensive, but we do have enough money yet.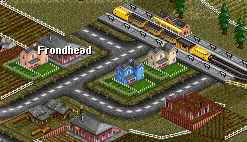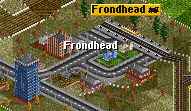 Three million Dollar
We paid almost three million dollar.
But not only new buildings are constructed, also the streets got a face lift, sidewalks, public lighting etc.
1950..2050: Year by Year
This page shows all Game Years one by one. From 1950, to the last one: 2050.
In the Control Box below you can browse from one year to another or jump to any of the 100 years. If the Save Game of the selected year is available then there is a Download Button.
PID: 3021
CLT: 0.002
LMD: 2013-Aug-17