Episode 5 : 1990..1999 - Consolidation 2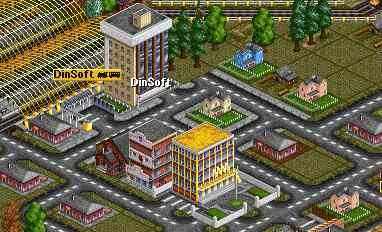 1990
Our Head Quarter village Dinsoft has almost 800 inhabitants.
The office was completely rebuilt the last year. We have now a very nice, multi-floor office. The next ten years we will concentrate on consolidation.
The income of the trains is again increased last year. We have to keep this going up. Our loan is still on an acceptable level, $220,000.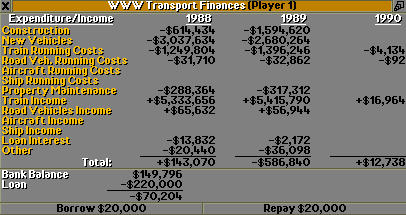 Bank Balance
The bank balance is now increasing rapidly. We earn about $5.000.000 yearly.
It is always good to pause the game and to look around for things to be improved. Click on a railroad station and look how the local ratings are. For example Tenington Woods goes very bad, only 37% of the produced wood is transported.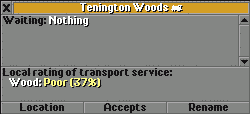 How to improve?
What can we do to improve this bad situation? Well, the train is long and fast enough; no need to change. The paper mill where the wood has to be transported is quite far away and a long part of it is shared with the train from Ledinghattan Woods. A long part of the track is single and this may cause too long waiting times for the train to go there. So we go to change this from single to double track. Hopeful this will help. We keep you informed. Also the paper produced by the paper mill is not picked up. It needs to go to a Printing Works, but that we don't have. We could build one ourselves, but it is very expensive, almost $9.000.000. We have only $700.000, not possible yet, we have to wait...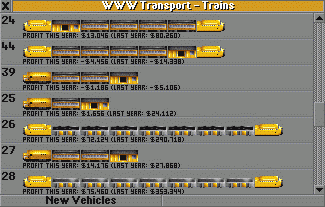 Train earnings
After our look around to the stations, we should look also to the trains. There might be a train, which does not earn money.
At the beginning of the year; we have to look only to the past year. If that is minus, there is something wrong. WWW Transport has several of these trains, but it is not so bad. They are used to connect small cities and to stimulate the growth of the cities. For other trains, like coal trains, it is different. They must always make money, if not, there is something wrong.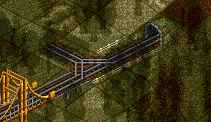 Shortcut
In April, we made a new tunnel in the railroad between Fledingville and Tatfield Central. The tunnel starts now much lower in the mountain, so the train does not have to climb so much. This will reduce the travel time between the two cities.
The new tunnel is on the right in "transparent" view mode.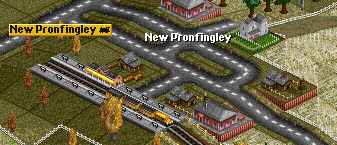 New Pronfingley to Trunhill
In May we started a new passenger service between New Pronfingley and Trunhill, a neighbor village. The first train left with three passengers and one bag of mail. Upon arrival in Trunhill, it earned $164.00
In the mean time it is already September and we need to have a look to the two wood trains where we had a look at in the beginning of this year.

Wood transport
Well, there are still some problems with the wood transport from Tenington Woods. The rating is only 47% The extra track did not help so much.
The other solution is an extra train. However, there are already two trains on this track, one to Tenington Wood and one to Ledinghattan Woods. But the wood production of Ledinghattan Woods is very low, only 70 tons of wood, this is even too low to make the train earns money. The other forest has a production of 270 tons. Therefore we let both the two trains go to Tenington Woods. As can been seen one of the trains make money, the other one not.

Subsidy
We got on offer for a subsidy on a passenger transport. It is always an interesting business. We will try to get this subsidy.
First we make a new station at Brubourne, but before we can do so, we have to plant some extra trees to make the inhabitants happy. Otherwise we wont get the permission to build a new station.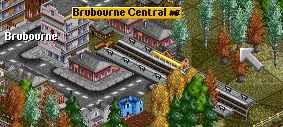 Condinghall
Here it is very simple; there is already a double track station with one spare. After some very hard working the new train arrives on December 20 on Condinghall railroad station. We had really to disturb the environment at Condinghall to make the connection to the station. Therefore on the damaged areas we have to plant some trees otherwise the inhabitants will get angry on us.
1950..2050: Year by Year
This page shows all Game Years one by one. From 1950, to the last one: 2050.
In the Control Box below you can browse from one year to another or jump to any of the 100 years. If the Save Game of the selected year is available then there is a Download Button.
PID: 3021
CLT: 0.002
LMD: 2013-Aug-17