Episode 4 : 1980..1989 - Globalization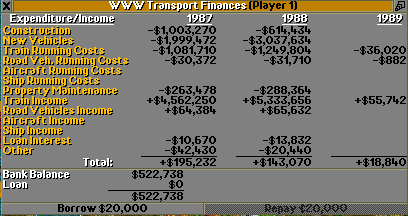 1989
WWW transport has now 44 trains and 4 road vehicles. The income last year passed the $5,000,000.
The coming year we will continue with our "Globalization". Transport for the whole world.
Our investments in construction and new vehicles will remain very high.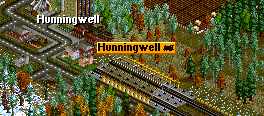 Hunningwell to Gefingway
The first new transport services for the year 1989 is from Hunningwell to Gefingway.
Both railroad stations are a bit oversized for the (at this moment) small villages, but we do aspect some growth.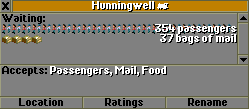 Many Passengers
There are almost immediate a lot of passengers on this railway station. So the first train from Hunningwell to Gefingway earned almost $26,000
Some more special actions:
Train 7 was old and is replaced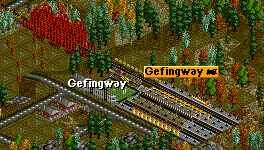 More new transport services
Slindwood to Kindingstone
A second train between
Hunningwell and Gefingway
Operating Profit

The above graph shows the Operating Profit from January 1984 till December 1989. As you can see, the competitors are almost on the zero line. They will never go up.

Compagny League table
On the right is the "Company League Table. "WWW Transport" is now with "Chairman" the number one.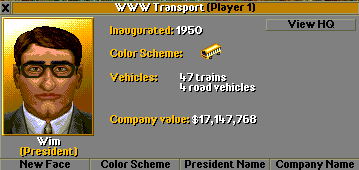 Company Status
You can see how many vehicles we have and the value of the company.
There is also a "View HQ" link which brings you to our headquarter.
Don't forget to look at the portrait; it's the big boss himself, never getting older during these hunderd years.
1950..2050: Year by Year
This page shows all Game Years one by one. From 1950, to the last one: 2050.
In the Control Box below you can browse from one year to another or jump to any of the 100 years. If the Save Game of the selected year is available then there is a Download Button.