Episode 4 : 1980..1989 - Globalization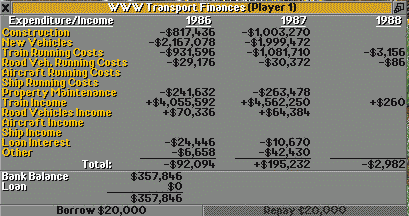 1988
Income is now over $4,500,000. We have now 42 trains and 4 road vehicles.
The Operating profit Graph goes continuously upwards. Due the higher number of trains we have, we needed to hire some more people.
To make place for them our office was once more completely rebuilt.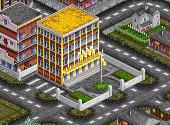 New passengers and mail services
Barninghall to Kendhattan Central
Tennpool, via Ronwood to Barninghall
These services are not making any money yet, but they will improve the growth of the connected villages.
At the right side, the new "WWW Transport" Office

Train 1 getting old
In the mean time we got a message that train 1 is getting old, we need to replace is by a new one. Only the locomotive we can keep the cars.
This will cost a lot of money in the next years.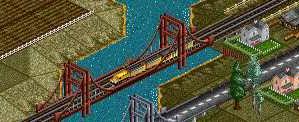 New bridges
It are not only the trains to be replaced, but many times also the bridges. To save money, we built low speed bridges in the past; they are not suitable for the new, high speed trains.
So in the case of train 1 we go to replace also the bridge from a 112 Km/hour type to a 241 Km/hour type.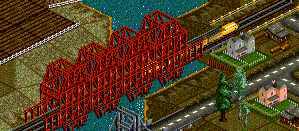 The new Bridge
Well, the train and the bridge are replaced. We had again to borrow some money.
The total cost of this replacement was about: $566.000 for the train and $28,332 for the bridge.
November 5, the loan was already paid off.
1950..2050: Year by Year
This page shows all Game Years one by one. From 1950, to the last one: 2050.
In the Control Box below you can browse from one year to another or jump to any of the 100 years. If the Save Game of the selected year is available then there is a Download Button.