Episode 4 : 1980..1989 - Globalization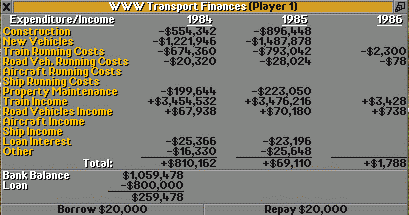 1986
The income of last year was almost the same as the year before. Also our Operation Profit graph shows some ups and downs. Not a really increase.
We still need some trains for the Live Stock and Wheat service from Pennville farm to Tindhall Woods. Total amount required is about $1,200,000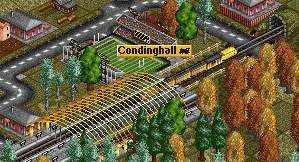 More Food
Both trains were running end of May. They earn about $30,000 per trip. Due too this extra supply of Live Stock and Wheat we had to upgraded the food train from Tindhall Woods to Carfingley to a Turbo Diesel.
This to improve the service.
We opened a new passengers and mail service between Condinghall and Tedingville.

Road vehicle Crash
"Driver dies in fireball after collision with train". This is one of the many messages during the game that you have to read.
1950..2050: Year by Year
This page shows all Game Years one by one. From 1950, to the last one: 2050.
In the Control Box below you can browse from one year to another or jump to any of the 100 years. If the Save Game of the selected year is available then there is a Download Button.