Episode 4 : 1980..1989 - Globalization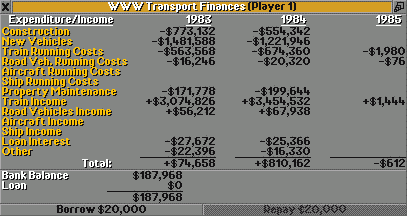 1985
The last year was not too bad. our train income increased till $ 3,454,000, about a $400,000 more then the year before. We had also enough money to pay our loan back. It is now $0.
Last December we just started a new railroad between Frondhead Farm and Tindhall Woods. The same line can later be used to connect also the Pennville Farm.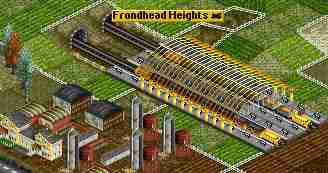 Food transport
End of June the two trains are in operation. As usual one for wheat and one for Live Stock. They both have the Turbo Diesel locomotive, because when the transport time is too long then the earnings decrease a lot. The earning from the Live Stock train was $35,000 and from the Wheat train $40,000
To complete it, we've made also a Food train between Tindhall Woods and Carfingley.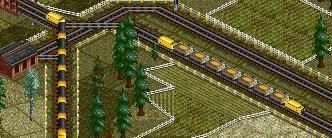 Pennville Farm
In November the Pennville Farm is also connected to the railroad that goes to Tindhall Woods. We made a special junction to connect both tracks. Our bank account is too low to buy trains for this line, each Turbo Diesel locomotive costs now about $500,000
We have to wait one or two months.
1950..2050: Year by Year
This page shows all Game Years one by one. From 1950, to the last one: 2050.
In the Control Box below you can browse from one year to another or jump to any of the 100 years. If the Save Game of the selected year is available then there is a Download Button.