Episode 4 : 1980..1989 - Globalization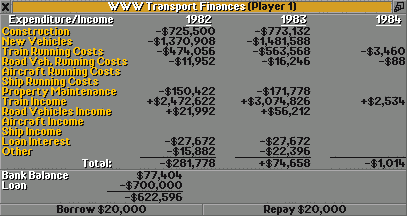 1984
Our train income increased to about $3,000,000, our loan is still $700,000. WWW Transport owns now 28 trains and three road vehicles. The value of the company is $8,889,546.
In the Company league table we are now "Chief Executive".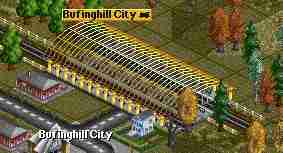 New transport services:
Tindhall to Bufinghill City
Bufinghill City to Tedingville
Brubourne to Tindhall Woods
Tenington to Tindhall (bus)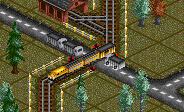 Raod Crossing
The railway from Brubourne to Tindhall Woods crosses the road near the Tindhall Woods railway station. A competitor uses this road for his food transport trucks. Normally these trucks stops when a train comes, but sometimes it goes wrong and then... booom, an accident. Wait and see.
1950..2050: Year by Year
This page shows all Game Years one by one. From 1950, to the last one: 2050.
In the Control Box below you can browse from one year to another or jump to any of the 100 years. If the Save Game of the selected year is available then there is a Download Button.