Episode 3 : 1970..1979 - Expansion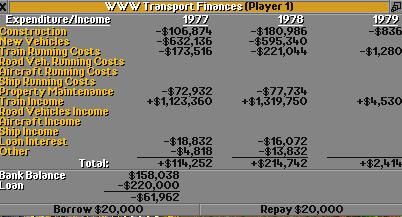 1979
We are already in the last year of the "Expansion" cycle. Our earnings increased only with a$200,000.

However, our bank balance becomes positive. We are not so far from the situation that we earn more than we can spend. Sounds good, isn't it?

End of February 1979 the new train runs between Senfingley and Slunningpool.

Subsidy withdrawn
The first of march the subsidy we had on the passengers transport from Overingway to Lendhead was withdrawn. The train earned the previous year $43.000 and this year about $11,000.
A subsidy does not increase the earnings a lot, but gives a good opportunity to start a new service.

New subsidy
After a few months of work and an expensive tunnel of $60,000 the railroad is ready. Since we have no real money problems anymore we could buy direct a Turbo Diesel with a speed of 160 km/h
After the first two round trips, the earnings of the new train are already around $50,000
Another subsidy
In the mean time we got another subsidy offer, now between Overingway and Pennville. In Overingway we had already a railroad station for the coal mine. This one is relocated, closer to the city. Now it can be used for coal and passengers transport.
The 15 the December the train is in operation. Of course we used again the Turbo Diesel. December 29 we got the subsidy.
1950..2050: Year by Year
This page shows all Game Years one by one. From 1950, to the last one: 2050.
In the Control Box below you can browse from one year to another or jump to any of the 100 years. If the Save Game of the selected year is available then there is a Download Button.