Episode 3 : 1970..1979 - Expansion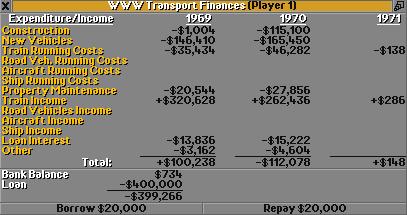 1971
This was the end of the first year of our "Expansion" cycle.
The train income is much lower than in 1969. This is due to the world recession. The number of transport passengers is much lower.
Our bank account contains only $734. Also we have still the maximum loan.
Dirty trick
Since the passengers transport is still low, we did a bit a dirty trick and used the Dinsoft to Lendhead train for the coal transport.
As you can see, the first coal transport earns $17,660 This are no peanuts anymore. With this money we can buy a few more coal cars.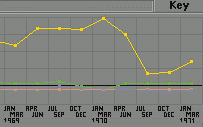 Recession is over
In May the recession is over. It's time. If we look to the Operating profit Graph, then we see that it went down very sharply during this recession. With the new coal transport it should improve very fast.
We should not forget to buy a new train for the Dinsoft to Lendhead line. The old one is used for the coal transport.
The next full coal train earned $20,398.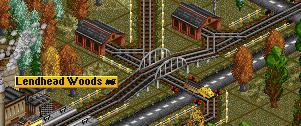 Lendhead Woods
Some time later we got enough money to reorganize the railroad near the Dinsoft Power Station. We made a bridge and a new train depot. For the passenger's transport a small locomotive with one passengers car is used.
1950..2050: Year by Year
This page shows all Game Years one by one. From 1950, to the last one: 2050.
In the Control Box below you can browse from one year to another or jump to any of the 100 years. If the Save Game of the selected year is available then there is a Download Button.