Episode 2 : 1960..1969 - Consolidation 1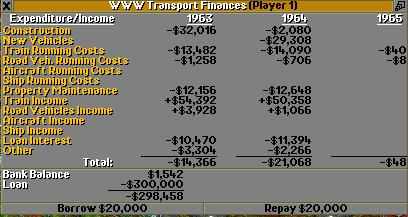 1965
In 1964 we bought a new bus for $ 29,308. Further there were some construction costs. All earnings are about $51k.
Bank Account
Bank account has only $1,542.
This means that in 1965we can not do anything, but watching our mini world.

New Locomotive
In March there is a new locomotive available. Too expensive for our poor WWW Transport Company
It is also not my favorite model, it's expensive and slow.
Engineer
It's August 1965. In the Company League table we moved down to "Engineer and we are now on the second place after "Green transport", the company with the gold transport.
1950..2050: Year by Year
This page shows all Game Years one by one. From 1950, to the last one: 2050.
In the Control Box below you can browse from one year to another or jump to any of the 100 years. If the Save Game of the selected year is available then there is a Download Button.
PID: 3021
CLT: 0.002
LMD: 2013-Aug-17