Episode 2 : 1960..1969 - Consolidation 1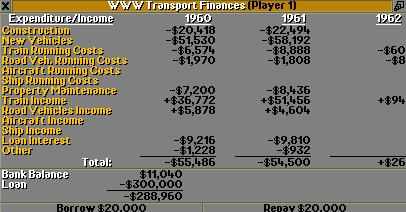 1962
The year 1961 ended negative. But the train earnings were around $50,000 If we don't invest any more money, then the earnings for this year will be good.
Cash
The cash increased already to $11,040, so there seems to be some progress.
At the end of January we bought a second passenger car for the Tindhall train, always too many passengers left on the station. June 22the first money repaid after the new loan, $20,000 on the bank for new investments.

Old Bus
We have to look to the bus, remember, there is only one left. It's already 10 years and within two years more it becomes old and the reliability decreases a lot. Then it is time to replace it.
A new bus is about $25,000 (1962).

New Locomotive
No money to spend, so these messages are always given some frustrations.
1950..2050: Year by Year
This page shows all Game Years one by one. From 1950, to the last one: 2050.
In the Control Box below you can browse from one year to another or jump to any of the 100 years. If the Save Game of the selected year is available then there is a Download Button.