Episode 2 : 1960..1969 - Consolidation 1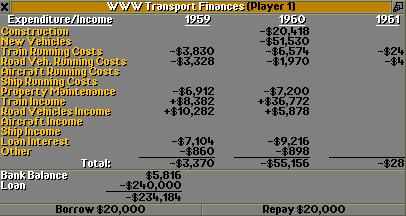 1961
The financial result is not too bad, the train earnings increased from $8,328 to $36,722. Of course the profit from the one bus we have now is about half of last year
The income graph show an up going line.
The competition is still trying to make a railroad between the gold mine in Slindwood and the bank in Drontburg.

New Forest
May 12 a new forest in the mountain near Ledinghattan. July 1 is an historical date. Enough money was earned to pay off $20,000 of the loan.
It means that there is now $80,000 available for new investments.
The best we can do is to setup a new transport service, that's our job, isn't it?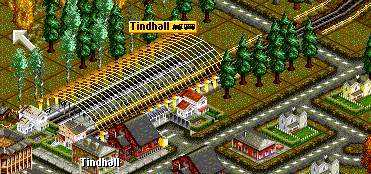 Tindhall
OK, after looking around on the map, a good place was found. First I looked to Tatfield, which is already quite big, but then a new company started to operate there. It's better to look at another place. Here it is, Tindhall with 637 inhabitants. The Railroad Station has a connection to the neighbor village Carfingley, 177 inhabitants.
Loan
Our loan is now the maximum of $300,000 and there is only $9,500 cash left. It will be an exiting time in the future.
1950..2050: Year by Year
This page shows all Game Years one by one. From 1950, to the last one: 2050.
In the Control Box below you can browse from one year to another or jump to any of the 100 years. If the Save Game of the selected year is available then there is a Download Button.
PID: 3021
CLT: 0.002
LMD: 2013-Aug-17