Episode 1 : 1950..1959 - Startup
1956
Another New Year arrived. We have now two busses and one train. The Operational Profit Graph goes slowly up. The two busses which were set for "Full Load" are reset to standard operation. This will increase the performance of the train. Let's watch the train sometime to see if it can make money.

Competition
The three competitors have all one aircraft. They all lose money, it's not so easy in this game. On July 2 we received a messages that the competitor Lendhead Transport is in financial problems.

Train Earnings
WWW Transport does it quite well. Here the financial report of the train. It made $4,412

At the Top
Another piece of information is given by the "Company League Table". As can been seen, the "WWW transport" is at the top.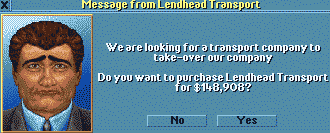 Company for sale
Lendhead Transport is now for sale.
Its business is to bad to survive, however you need a lot of money to buy this company. For "WWW transport" is it impossible.
It is also not so interesting to buy a company which loses money

At the first of October, the small diesel train, which we had already via a special offer is now available for all companies.
1950..2050: Year by Year
This page shows all Game Years one by one. From 1950, to the last one: 2050.
In the Control Box below you can browse from one year to another or jump to any of the 100 years. If the Save Game of the selected year is available then there is a Download Button.