Bussigny
Bussigny is located about 6 km northwest of Lausanne. It has around 7300 inhabitants. I'm one of them. It is a very nice village and the people are very kind.
If you ask them "Do you speak English" they say "Oui". They continue to speak in French, but they do speak English when they want.
There are about 25% foreigners in Bussigny. Only a few out of them speak Dutch. However, the best for everybody is to speak French.
That's also what I try...
Vaud
Bussigny is located in the Canton of Vaud. This French speaking canton is in the south west of Switzerland. Bussigny is not far from the lake of Geneva.
Maps at ViaMichelin.com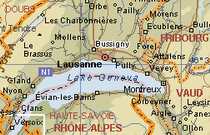 Venoge
What is special in Bussigny? There is a forest with a small river, the "Venoge". In this river there is also a waterfall. There are very nice places to walk and there is a "Parcours vita" for running and jogging. The village is on an altitude of 457 meter.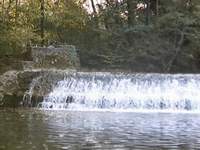 Of course, it is not flat, so there are some "ups and downs". We have two international hotels, a Novotel and a "F1". If someone talks about the Novotel of Lausanne, then you know now that it is in Bussigny. Also the F1 is special; it is the only F1 in Switzerland. If, once you find more F1 hotels then we have the first one. The football club has the very original name of "FC Bussigny".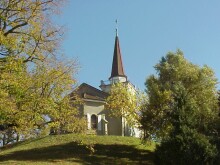 This church is about in the center of the village. On my first day in Bussigny I passed this church many, many times. You can drive around it, but the roads there are all one way.
What's more in and around Bussigny? A Coca Cola factory, a large office from Logitech, and a Mc Donald's restaurant.
Shops
A large Migros MMM shopping center, a Media Markt Superstore. At the end of the year 2001 we got a COOP Superstore very close to Bussigny. On June 2008 Aldi opened their shop.
Finally, there was the place where I worked. This was Superior Electric then Warner Electric and later it became Danaher Motion. It was always the same company, but the name changed a few times. It's about one kilometer from Bussigny, in Villars-Ste-Croix. In 2002 it was partially closed. It took me a long time before I've found a new job at Tip Top Tips in Rolle. This company does development of medical (dental) electronics.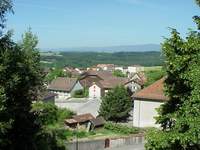 View from the road around the above church to an housing area of Bussigny. Look good; you won't see any antennas on the roof. Whole Bussigny has cable TV, cabled by "Bussivision". Via this cable network we have also Internet access. Urbanet is the name of the Internet provider.
This is maybe the reason that so many people are on Internet here. Even this village organizes LAN party's. Then each year, around end of March there is a Carnaval in Bussigny.
Bussigny links